The Influence of Work Discipline on The Performance of Teachers of Cluwak District, Pati District
Keywords:
Work discipline, teacher performance
Abstract
This research aims to determine the effect of work discipline on teacher performance on teacher performance according to the perceptions of Public Elementary School teachers in Cluwak District, Pati Regency. The research design used quantitative descriptive research methods. The population in this study were all Public Elementary School teachers in Cluwak Subdistrict, Pati Regency, as many as 295 teachers, a sample of 167 teachers using a simple random sampling technique, namely taking samples randomly. The data collection instruments used were questionnaires. Analysis of the data in this study used the classical assumption test and correlation analysis using the help of SPSS version 24. Work discipline made a significant contribution to efforts to improve teacher performance with a correlation coefficient value of 0.614 included in the strong category with the magnitude of the influence of work discipline on teacher performance by 37.7%. In conclusion, work discipline is effective on teacher performance.
Downloads
Download data is not yet available.
References
Andriani, S., Kesumawati, N., & Kristiawan, M. (2018). The influence of the transformational leadership and work motivation on teachers performance. International Journal of Scientific & Technology Research, 7(7), 19-29.
Arifin, M. B. (2017). Sistem Penjaminan Mutu Pendidikan Teori & Praktik. Yogyakarta: Ar-Ruzz Media.
Arifin, H. M. (2015). The Influence of Competence, Motivation, and Organisational Culture to High School Teacher Job Satisfaction and Performance. International Education Studies, 8(1), 38-45.
Caughlan, S., & Jiang, H. (2014). Observation and teacher quality: Critical analysis of observational instruments in preservice teacher performance assessment. Journal of Teacher Education, 65(5), 375-388.
Fudiyah, U. N., & Harapan, E. (2021, July). Work Discipline and Principal Leadership in Influencing Teachers' Performance. In International Conference on Education Universitas PGRI Palembang (INCoEPP 2021) (pp. 839-843). Atlantis Press.
Ghasabeh, M. S., Soosay, C., & Reaiche, C. (2015). The emerging role of transformational leadership. The Journal of Developing Areas, 49(6), 459-467.
Jackson, C. J. (2020). Transformational leadership and gravitas: 2000 years of no development?. Personality and individual differences, 156, 109760.
Karnan, K., & Marimuthu, K. (2021). Gaya kepimpinan kolaboratif pengetua dan tahap kepuasan kerja guru sekolah menengah kebangsaan [Principal collaborative leadership style and level of job satisfaction of national secondary school teachers]. Muallim Journal of Social Sciences and Humanities, 5(2), 191-207. https://doi.org/10.33306/mjssh/133
Mesquita, S. S. D. A. (2018). Benchmarks of the "good high school teacher": theoretical discussion exercise. Cadernos de Pesquisa, 48, 506-531.
Moyo, G., Khewu, N. P., & Bayaga, A. (2014). Disciplinary practices in schools and principles of alternatives to corporal punishment strategies. South African Journal of Education, 34(1).
Pope, N. G. (2019). The effect of teacher ratings on teacher performance. Journal of Public Economics, 172, 84-110.
Prokhorova, M. P., & Semchenko, A. A. (2018). Involving of trainees-future teachers of professional training in project activities in the discipline. Vestnik of Minin University, 6(2), 6.
Prochazka, J., Vaculik, M., Smutny, P., & Jezek, S. (2018). Leader traits, transformational leadership and leader effectiveness. Journal of East European Management Studies, 23(3), 474-501.
Purwoko, S. (2018). Pengaruh kepemimpinan kepala sekolah, komitmen guru, disiplin kerja guru, dan budaya sekolah terhadap kinerja guru SMK. Jurnal Akuntabilitas Manajemen Pendidikan, 6(2), 150-162.
Rimm-Kaufman, S. E., & Sawyer, B. E. (2004). Primary-grade teachers' self-efficacy beliefs, attitudes toward teaching, and discipline and teaching practice priorities in relation to the" responsive classroom" approach. The Elementary School Journal, 104(4), 321-341.
Roeleejanto, C., Brasit, N., Payangan, O. R., & Pahlevi, C. (2015). Effects of leadership, competency, and work discipline on the application of total quality management and employees' performance for the accreditation status achievement of government hospitals in Jakarta, Indonesia. Scientific Research Journal (SCIRJ), 3(11), 14-24.
Sahadi, S., Arafat, Y., & Widayatsih, T. (2021). The Influence of Principal Leadership and Work Motivation on Teacher Work Discipline. Edunesia: Jurnal Ilmiah Pendidikan, 2(2), 367-386.
Setiyaningsih, T. T. (2020). Influence of school leadership, discipline, and work motivation toward high school teacher performance. Harmoni Sosial: Jurnal Pendidikan IPS, 7(1), 66-77.
Sugiyono, P. D. (2018). Quantitative, qualitative, and R&D research methods. Bandung:(ALFABETA, Ed.).
Sugiyono, P. D. (2017). Metode penelitian bisnis: pendekatan kuantitatif, kualitatif, kombinasi, dan R&D. Penerbit CV. Alfabeta: Bandung, 225.
Sriyono, H. (2020). Analysis of Influence of Perception of School Leadership and Work Motivation on the Teacher Performance (Case Study in Private School Depok). Repository, 11(3).
Susilawati, Y. (2021). Relationship of Transformational Leadership, Interpersonal Communication with Teacher Performance through Teacher Discipline. J Adv Educ Philos, 5(11), 357-363.
Sunarsi, D. (2018). Pengaruh Gaya Kepemimpinan, Motivasi Dan Disiplin Kerja Terhadap Kinerja Pendidik Yayasan Marvin. Inovasi, 5(1), 1-18.
Thalhah, S. Z., Tahrim, T., & Sari, R. E. (2022). Development of Lecturer Performance Assessment Instruments through the Plomp Model in Higher Education. AL-ISHLAH: Jurnal Pendidikan, 14(2), 1527-1540.
Wulandari, M., Fitria, H., & Wahidy, A. (2021). The effect of leadership and work discipline on teacher performance. JPGI (Jurnal Penelitian Guru Indonesia), 6(1), 204-208.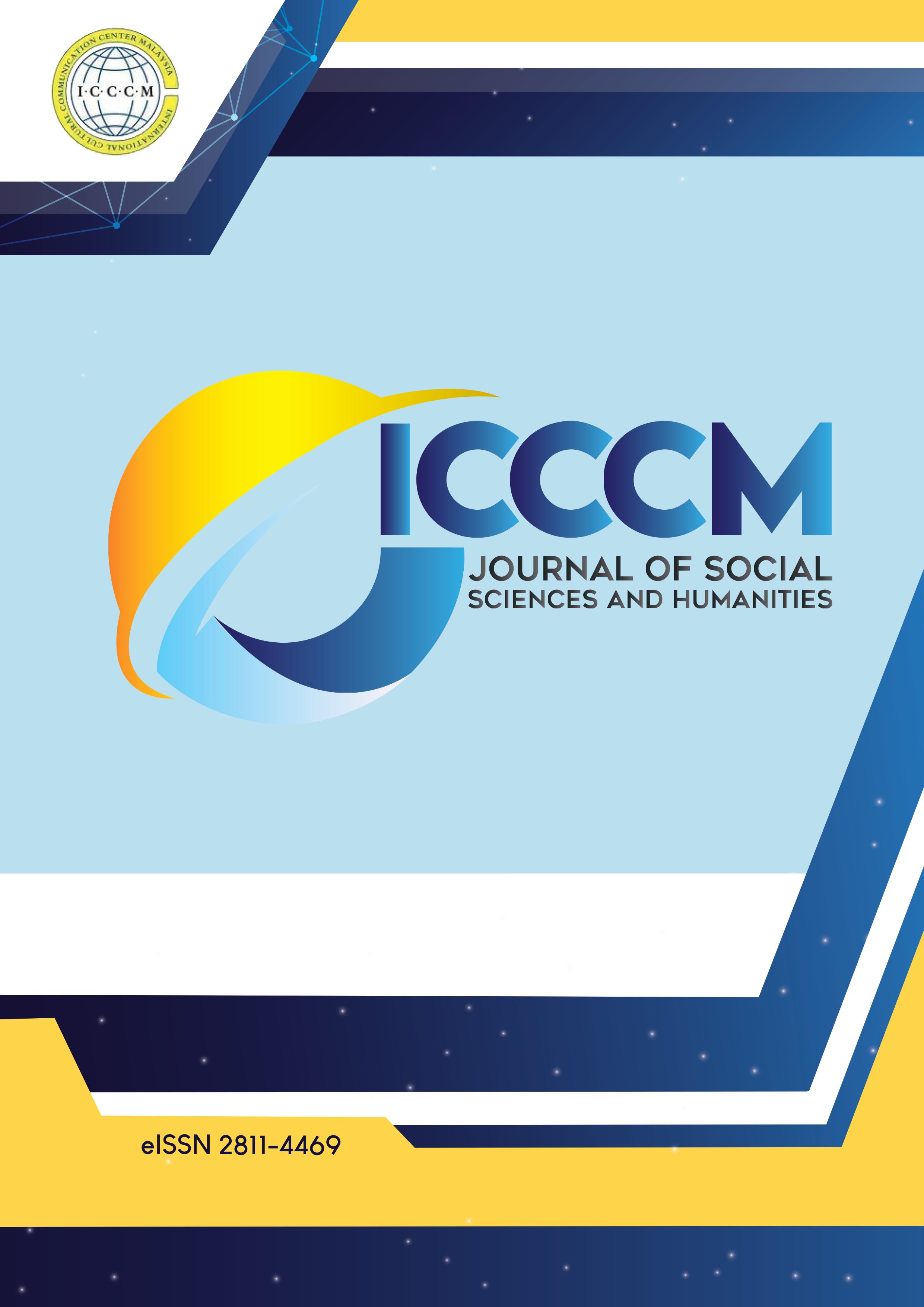 Downloads
How to Cite
Mufidah, R., Sukirman, & Surachmi, S. W. (2022). The Influence of Work Discipline on The Performance of Teachers of Cluwak District, Pati District. ICCCM Journal of Social Sciences and Humanities, 1(5), 35–44. https://doi.org/10.53797/icccmjssh.v1i5.6.2022
License
Copyright (c) 2022 Roikhatul Mufidah, Sukirman, Sri. W Surachmi
This work is licensed under a Creative Commons Attribution-NonCommercial-ShareAlike 4.0 International License.